MORAL FACTORS THAT ENCOURAGE THE MAIN CHARACTER TO ACHIEVE SELF UNITY IN THE NOVEL "BEAUTY AND THE BEAST" BY ELIZABETH RUDNICK
Abstract
This study aimed to explore the moral factors that encourage the main character to achieve self-unity in the novel "Beauty and the Beast by Elizabeth Rudnick. This study used a philosophical approach related to exploring the elements of morality in literary works. The theory used is the theory of Linda and Richard (1993) about the form of moral values, and Cady's theory (2005) about the influential factors in moral formation. The research method used in this research is descriptive qualitative. Then, the researcher applied the library research method. The moral principles of the main character are portrayed in the attributes of honesty, courage, peace, independence and potential, discipline and moderation, respect, love, selflessness and sensitivity, kindness and friendliness, justice and compassion, according to the findings of this study. Meanwhile, the variables that lead to the creation of moral values might come from chance, intents from the environment, and their own will. Except for the principles of loyalty and chastity, Belle, the novel's main character, has demonstrated all of the moral values that have been theorized. Belle is most influenced by her own willingness to demonstrate her moral principles, which is caused by various factors that influence her to practice such beliefs, according to the investigation.
References
Alamsyah, I. E. (2019, April 11). Kasus AY, cerminan bobroknya moral generasi. Republika. https://republika.co.id/berita/ppsj1g349/kasus-ay-cerminan-bobroknya-moral-generasi
Cady, D. L. (2005). Moral vision. Rowman & Littlefield Publishers, Inc.
Creswell, J. W. (2013). Qualitative inquiry & research design (3rd ed.). Sage Publications.
Creswell, J. W. (2014). Research design: qualitative, quantitative, and mixed methods approaches (4th ed.). Sage Publications.
Eyre, L. & Eyre, R. (1993). Teaching your children values. Simon & Schuster.
Kasimbara, D. C. (2022). The Struggle of Women Existence in "Isn't It Romantic" Novel By Wendy Wesserstein. EScience Humanity Journal, 2(1), 9-16. https://doi.org/10.37296/esci.v2i1.28. link https://idebahasa.or.id/escience/index.php/home/article/view/28
Kenney, W. P. (1966). How to analyze fiction. Monarch Press.
Nur Alifah, S. (2021). Representasi Kuasa Ramalan: Pangeran Dipenogoro Dan Akhir Tatanan Lama Di Jawa 1785-1855 Karya Peter Carey Dalam Aku Dipenogoro! Oleh Landung Simatupang. IdeBahasa, 3(1), 1-10. https://doi.org/10.37296/idebahasa.v3i1.52
Pojman, L. P. (2000). The moral life: an introductory reader in ethics and literature. Oxford University Press.
Rahmi, E., & Arianto, T. (2022). Self-Manipulation as a Form of Desire Fulfillment In "Catch Me If You Can" Novel By Frank W. Abagnale Jr. EScience Humanity Journal, 2(1), 17-28. https://doi.org/10.37296/esci.v2i1.25. link https://idebahasa.or.id/escience/index.php/home/article/view/25
Ratna, N. K. (2004). Teori, metode, dan teknik penelitian sastra. Pustaka Pelajar.
Rudianto, G., & Zakrimal. (2020). Local Wisdom Values Of The Masterpiece of Raja Ali Haji's "Gurindam 12". IdeBahasa, 2(1), 69-80. Retrieved from https://jurnal.idebahasa.or.id/index.php/Idebahasa/article/view/30
Rudnick, E. (2017). Beauty and the beast. Disney Press.
Rudnick, E. (2021, August 01). About Liz. http://elizabethrudnick.com/liz.php
Rosyid, A. A. (2020). Maskulinitas Dalam Media Online: Analisis Wacana Kritis Dalam Kajian Ceramah Ustadz Salaf. IdeBahasa, 2(2), 107-120. https://doi.org/10.37296/idebahasa.v2i2.41. https://jurnal.idebahasa.or.id/index.php/Idebahasa/article/view/41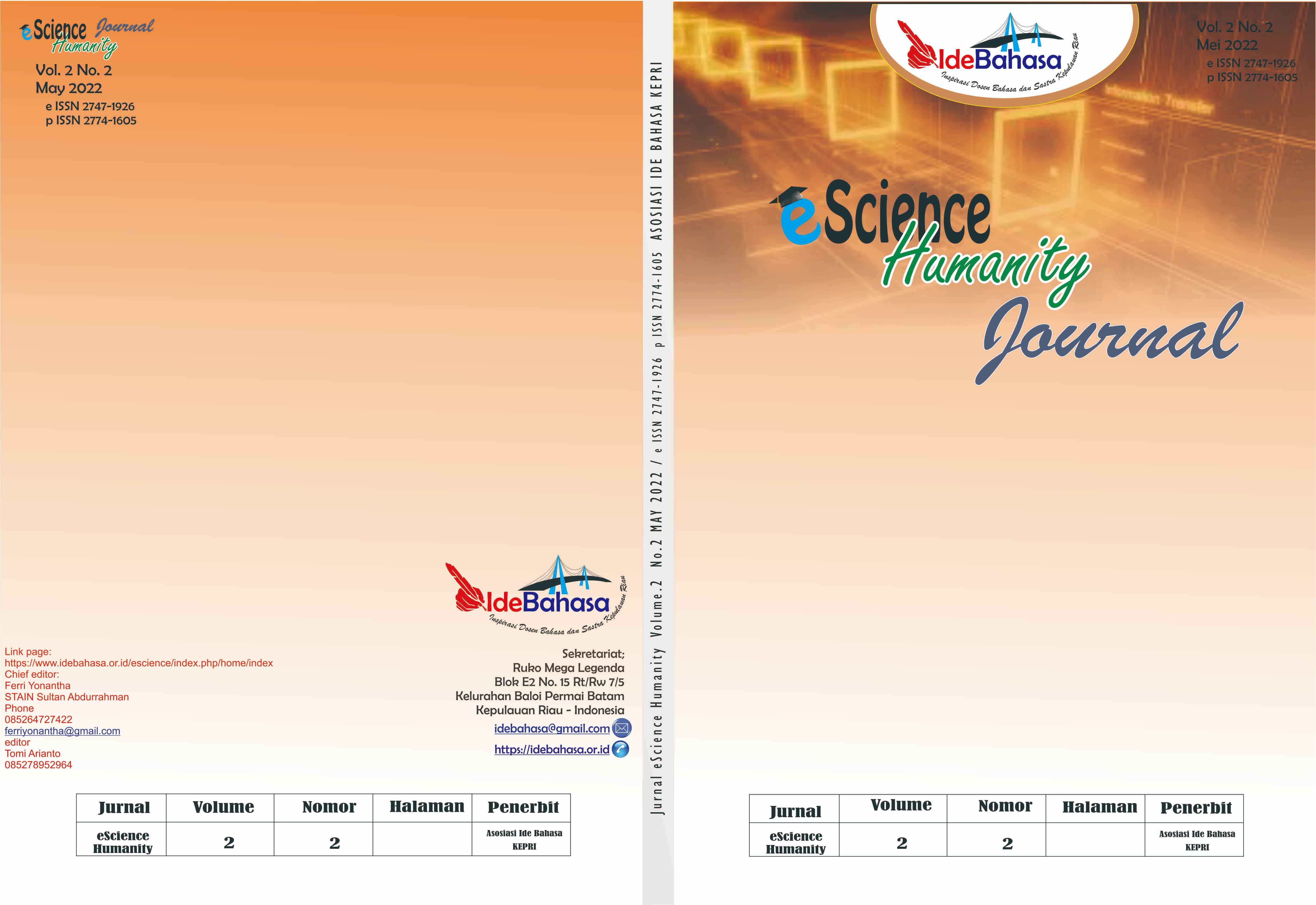 Downloads
How to Cite
Desica, D., & Arianto, T. (2022). MORAL FACTORS THAT ENCOURAGE THE MAIN CHARACTER TO ACHIEVE SELF UNITY IN THE NOVEL "BEAUTY AND THE BEAST" BY ELIZABETH RUDNICK. EScience Humanity Journal, 2(2), 87-96. https://doi.org/10.37296/esci.v2i2.38
Section
eScience Humanity Journal Volume 2 Number 2 May 2022