SELF-MANIPULATION AS A FORM OF DESIRE FULFILLMENT IN "CATCH ME IF YOU CAN" NOVEL BY FRANK W. ABAGNALE JR
Keywords:
Hierarchy of needs, esteem need, psychological approach
Abstract
Every human being needs the need to be able to continue living one of the things that is needed is the esteem needs. This study aimed to find the esteem need from Frank William Abagnale in Catch Me If You Can novel by Frank W. Abagnale Jr. which is a real story of the main character, Frank W. Abagnale. This novel was once the best seller in New York published in 1980 which tells the story of a person who is an expert in fake checks, manipulate identities and run away to fulfill life's needs and recognition of the status, achievements and identity of a character. The theory used in this paper is based on Abraham Maslow's theory. Abraham Maslow described the needs of human life in the form of a Pyramid, where the most basic parts are the most important needs in human life. This research that used by researcher is a qualitative research. The process of presenting research results uses informal methods by describing them through words. From the process of data analysis, it can be found that the main character Frank Abagnale in the novel "Catch Me if You Can" continues to struggle to fulfill his life needs as a human. It all started from the needs of Frank who wanted to meet the needs of self-esteem and recognition from people around his environment.
References
Abagnale, F. (1980). Catch me if you can. (S. Redding, Ed.). United State of America: New York. https://doi.org/79-91619
Aishwarya, & Shahrawat, R. (2017). Application of Maslow ' s hierarchy of needs in a historical context : Case studies of four prominent figures. Scientific Research Publishing, 939–954. https://doi.org/10.4236/psych.2017.87061
Aras, G. (2015). Personality and Individual Differences : Literature in Psychology- Psychology in Literature. Procedia - Social and Behavioral Sciences, 185, 250–257. https://doi.org/10.1016/j.sbspro.2015.03.452
Arianto, T., & Ambalegin, A. (2019). Suicide Experiments Due to Unmet Love Needs in Jhumpa Lahiri's Hell-Heaven Story. IdeBahasa, 1(1), 41-50. link https://jurnal.idebahasa.or.id/index.php/Idebahasa/article/view/3
Arianto, T., & Ambalegin, A. (2020). Escaping of Lackness Trough Fiction for Desire and Emptiness Fulfilment. IdeBahasa, 2(1), 49-58. link https://jurnal.idebahasa.or.id/index.php/Idebahasa/article/view/37
Aruma, H., & Enwuvesi, M. (2017). Abraham Maslow's Hierarchy of Needs and Assessment of Needs in Community Development, 5(7), 15–27.
Blaskova, M., & Grazulis, V. (2009). Motivation of human potential : Theory and practice. Vilnius: Monograph.
Branden, N. (1992). The power of self-esteem. Deerfield Beach, Florida: Health Communications.
Fanaj, N. (2015). A systematic literature review on self-esteem and self-esteem and psychological well- being in Kosovo. Human And Social Sciences at the Common Conference, (November 2014). Retrieved from https://www.researchgate.net/publication/269394609%0AA
Faruk. (2014). Pengantar sosiologi sastra dari strukturalism genetik sampai post-modernisme. Yogyakarta: Pusaka Pelajar
Freud, S. (2008). Commentary on Freud: "the ego and the id." in self and subjectivity (pp. 195–205). https://doi.org/10.1002/9780470774847.ch15
Moss, D. (2011). The roots and geneology of humanistic psychology. Retrieved from https://www.aapb.org/i4a/pages/index.cfm?pageID=3394
Goldstein, K. (1940). Human nature : In the light of psychopathology (first Edit). New York: Shocken Books. Retrieved from https://libgen.is/search.php?req=kurt+goldstein&lg_topic=libgen&open=0&view=simple&res=25&phrase=1&column=def
Grinstead, D. (2015). The psychology of Abraham Maslow. Psychology, (April), 1–16. https://doi.org/10.13140/RG.2.1.4697.0407
Herdayanti, K., & Satria, R. (2021). PSYCHOLOGICAL CONFLICT OF THE MAIN CHARACTER REFLECTED IN LADY BIRD MOVIE: English. JURNAL BASIS, 8(2), 231-238. link https://ejournal.upbatam.ac.id/index.php/basis/article/view/3766
Kinanti, A. L., & Daulay, R. (2020). Child Abuse Experienced By The Main Character In Rainbow Rowell's Eleanor And Park: A Psychosocial Analysis. IdeBahasa, 2(2), 155-164. link https://jurnal.idebahasa.or.id/index.php/Idebahasa/article/view/48
Maslow, A. (1954). Motivation and personality (2scnd edit). New York: Harper and Row Publisher.
Maslow, A. (2012). Towards a psychology of being (eBook edit). New York: Start Publishing LLC Copyright.
Putri, A., & Megah, S. I. (2017). The esteem need of Margaret Tate ' s on the proposal movie. Journal Anglo-Saxon, VIII(1), 34–46. https://doi.org/ISSN: 2301 5292
Ratna, N. K. (2015). Teori, Metode, dan Teknik Penelitian Sastra. Yogyakarta: Pustaka Pelajar.
Sudaryanto. (2015). Metode dan aneka teknik analisis bahasa. Yogyakarta: Sanata Darma University Press.
Vanti, A., & Sulistyorini, H. (2013). Magwitch ' s self esteem motive described in Charles Dickens ' s great expectations. Journal Article, 1–18.
Walborn, F. (2014). Religion in personality theory (pp. 255–278). New York: Elsevier Inc. https://doi.org/10.1016/B978-0-12-407864-2.00012-6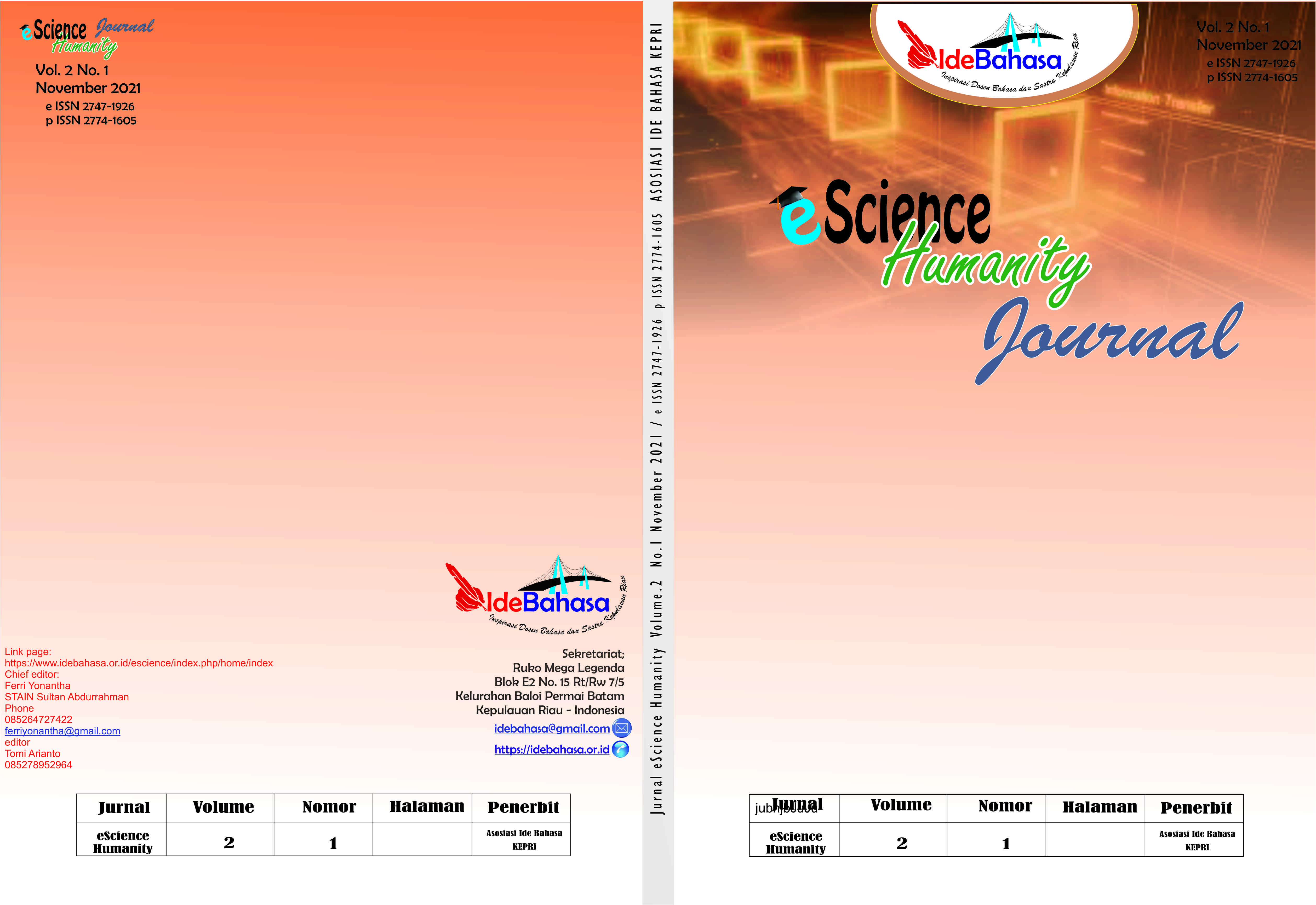 Downloads
How to Cite
Rahmi, E., & Arianto, T. (2022). SELF-MANIPULATION AS A FORM OF DESIRE FULFILLMENT IN "CATCH ME IF YOU CAN" NOVEL BY FRANK W. ABAGNALE JR. EScience Humanity Journal, 2(1), 17-28. https://doi.org/10.37296/esci.v2i1.25
Section
eScience Humanity Journal Volume 2 Number 1 November 2021