THE STRUGGLE OF WOMEN EXISTENCE IN "ISN'T IT ROMANTIC" NOVEL BY WENDY WESSERSTEIN
Abstract
This study aimed to reveal the struggle of women to gain existence in the novel as a representation of social phenomena. The data source of this research was Isn't It Romantic drama by Wendy Wesserstein. This novel is about women who want to achieve their dreams without the participation of their parents. They want to live without any interference from their parents. To reveal the struggle for existence, the researcher uses the existentialism approach by Simone Beauvoir. Existentialists fight for the nature of human existence, especially for women who have been subordinated to the patriarchal system. The method used in this research is Descriptive qualitative method. The close reading data collection method is effective in tracing data relevant to research variables. The analysis method is carried out critically by using an existentialism approach. The researcher got three main analyses toward the novel, they are: independence over women, authority in making decisions, and lastly, the same existence as a human being.
References
Beauvoir, S. (2016). The second sex (Terjemahan Kehidupan Perempuan). (N. J. Tony Febrianto, Ed.). Yogyakarta: Narasi-Pustaka.
Cresswell. W Jhon & Cresswll David J. (2018). Research design qualitative, quantitative and mixed methods approaches (fifth).
Dagun, S. M. (1990). Filsafat Eksistensialisme. Jakarta: Rineka Cipta.
Faruk, H. . (2003). Metodologi penelitian sastra (third). Yogyakarta: Hanindita.
Kindersley, D. (2019). The feminism (First; J. Andrews, V. Heyworth-Dunne, S. George, C. Meeus, C. Novis, & R. Warren-Chadd, Eds.). New York: DK Publishing.
Klarer, M. (2004). An introduction to literary studies (Second; W. Buchgesellschaft, Ed.). New York: Rotledge.
Kuhon, F. (2020). Woman Representation in Poe's To Helen. IdeBahasa, 2(1), 59-68. Retrieved from https://jurnal.idebahasa.or.id/index.php/Idebahasa/article/view/33
Martin, V. (2001). Existentialism Philosophy: Kierkegaard, Sartre, Camus. Yogyakarta: Pustaka Pelajar.
Pruis, T. A., & Janowsky, J. S. (2010). Assessment of Body Image in Younger and Older Women. General Psychology, 225–238. https://doi.org/10.1080/00221309.2010.484446
Sakinah, R. M. N. (2014). Citra Perempuan Dalam Novel The Holy Woman:Satu Kajian Feminis. Jurnal Balai Bahasa, 7, 73–84.
Showalter, E. (1997). The New Feminist Criticism. New York: Pantheon Books.
Simanungkalit, A. R., & Putra, E. E. (2020). An Analysis Image Of Women In Little Women Novel By "Louisa May Alcott." Jurnal Ellite, 03, 29–36.
Sinta , S., & Ambalegin, A. (2020). The Struggle to Against Patriarchal Dominance in Romeo and Juliet Drama. IdeBahasa, 2(2), 141-154. https://doi.org/10.37296/idebahasa.v2i2.47
Sudaryanto. (2015). metode dan aneka teknik analisis bahasa. Yogyakarta: Duta Wacana University.
Webster, M. (1828). Definition of function. Retrieved from https://www.merriam-webster.com/functioni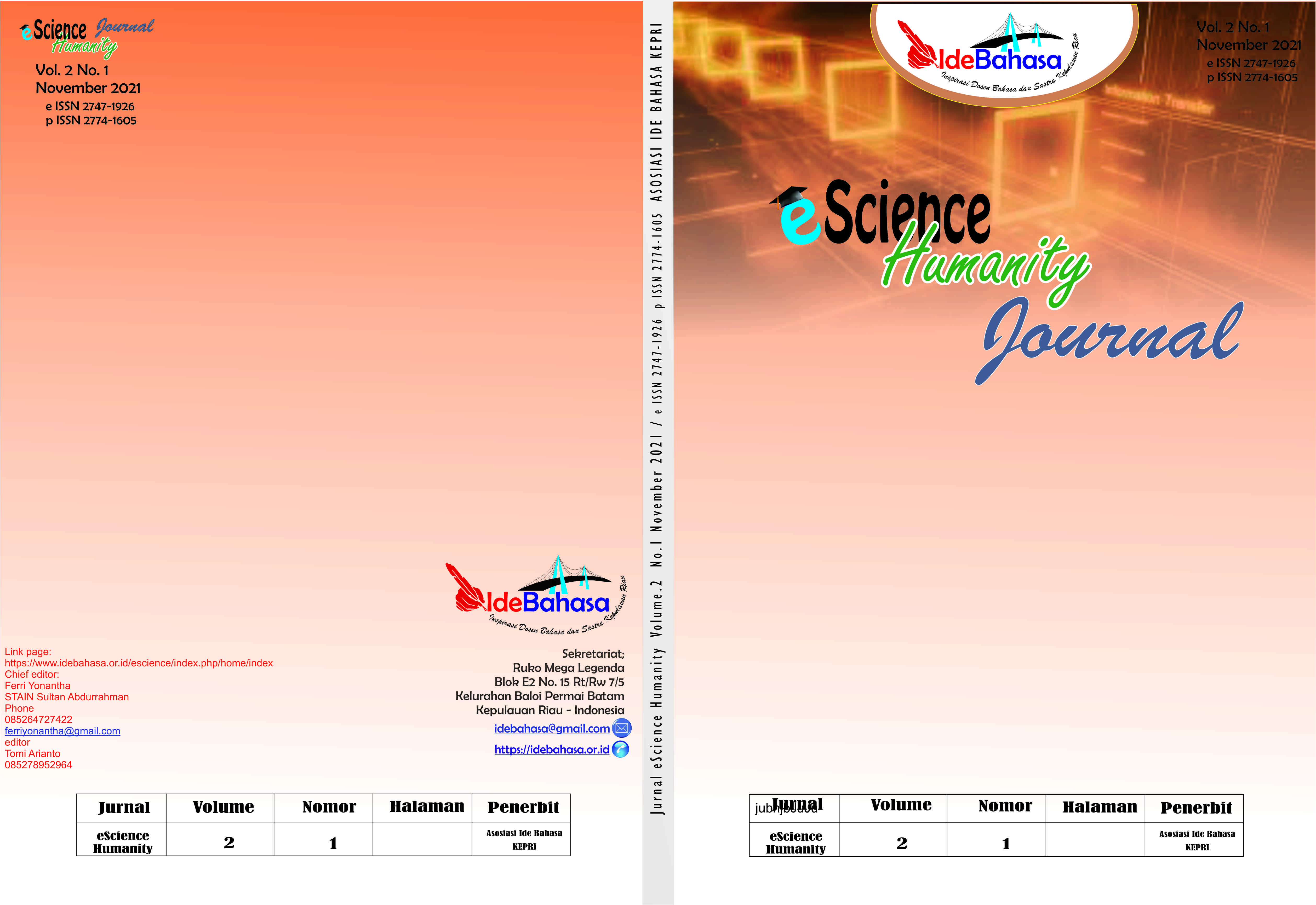 Downloads
How to Cite
Kasimbara, D. C. (2022). THE STRUGGLE OF WOMEN EXISTENCE IN "ISN'T IT ROMANTIC" NOVEL BY WENDY WESSERSTEIN. EScience Humanity Journal, 2(1), 9-16. https://doi.org/10.37296/esci.v2i1.28
Section
eScience Humanity Journal Volume 2 Number 1 November 2021