CARA MENGUASAI ENGLISH VOCABULARY PADA KOHAI KARATE TANJUNG PINANG
Keywords:
English vocabulary, Kohai, Karate
Abstract
Vocabulary which comes from English which means vocabulary, for every language user, vocabulary matters a lot. If a language user does not master vocabulary then he or she cannot convey the meaning they want to convey. So that communication between them does not occur. The purpose of this service is to equip kohai-kohai karate in facing international activities. Such as Singapore open tournament, Malaysia tournament, India open tournament, Thailand open. Every international match faced by the kohai-kohai requires communication, the communication they use is English. Mastery of vocabulary is not limited to read, but kohai-kohai need to remember and apply between fellow language users. In addition, the aim of mastery is to provide kohai-kohai in conveying the meaning simply or completely. In this community service, it was found that kohai-kohai did not master vocabulary properly. Besides that, the kohai-kohai didn't apply the vocabulary in a day. These factors are caused by an environment that does not support the use of the language, then cultural factors, other factors are the emergence of shame, shame because of fear of being wrong, embarrassed because of fear of being ridiculed by friends, embarrassed because of insecurity.
References
Carstairs-McCarthy, A. (2002). An Introduction to English Morphology: Words and Their Structure. Linguistics.
Field, J. (2003). Psycholinguistics A Resource Book For Students: USA and Canada by Routledge.
Nadra. (2010). Bahasa dan Teknik Penulisan Karya Ilmiah & Surat Resmi. Padang: Padang: Andalas University Press.
Semi, M. A. (2008). Stilistika Bahasa. Padang: Padang: University Negeri Padang Press.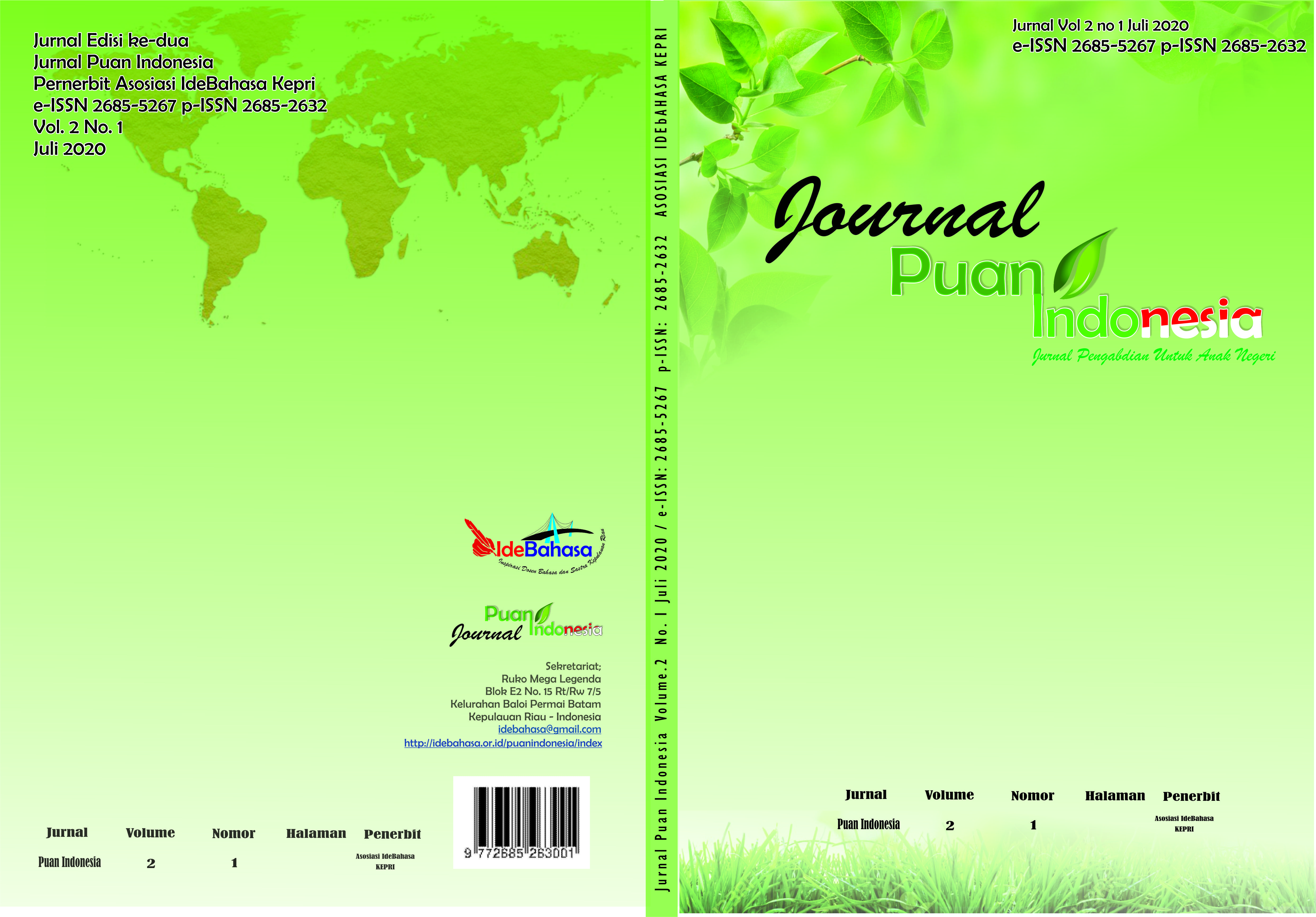 Downloads
How to Cite
Johan, M., & Evyanto, W. (2021). CARA MENGUASAI ENGLISH VOCABULARY PADA KOHAI KARATE TANJUNG PINANG. PUAN INDONESIA, 2(2), 119–124. https://doi.org/10.37296/jpi.v2i2.30
Section
Jurnal Puan Indonesia Vol 2 No 2 Januari 2021