PEMBINAAN PENGELOLAAN KEUANGAN KELUARGA DAN PENINGKATAN KEMAMPUAN BAHASA INGGRIS PADA IBU RUMAH TANGGA DI PERUMAHAN GRIYA TAHAP 1 BATU AJI
Keywords:
Management, family finances, English, housewives
Abstract
Being a housewife is a multi-tasking  tasks and it is not an easy thing. In this case, a housewife has many roles such as should be a mother , a counselor for her daughter  as well as taking care of everything. Besides, the mother is also a teacher. As we know that,  the  first  teacher of a child is a mother. Then,  the mother is also a financial manager and general administration  at home. Many problems have been encountered, so a housewife  tasks are  very hard, in this case they have to  harmonize and regulate the amount of income and increase in some basic needs and daily needs. Except the problems that regarding  with financial management, the problem  face also relates with the lack of knowledge of housewives in English.  As a housewife needs an ability of English skill  to help their children  in studying later on.  Those phenomenon  happens in  families who live in Griya Batu Aji stage 1.The solution offered housewife  that a family financial management is very important for financial survival of a family. As a financial manager at home, a housewife must be able to manage expenditure and income posts. Besides, for teaching English,  parents should implement a fun learning environment and learning strategies that can motivate children to learn English. A learning environment that suits the real-world context is needed so that parents can apply it to everyday learning activities with children.
References
Hatidjah, S., & Sulfaidah. (2017). Analisis strategi pengelolaan keuangan rumah tangga di kota makassaR. Jurnal Economic, 5, 7–11.
Nurhidayah, F., Sofia, I. P., Wisnantiasri, S. N., & Mutira, P. (2017). Pelatihan Pengelolaan Keuangan Keluarga bagi Ibu Rumah Tangga pada Kelompok Pemberdayaan dan Kesejahteraan Keluarga ( PKK ) di Kelurahan Sawah Baru Kecamatan Ciputat Tangerang Selatan Banten. 1, 57–66.
Simalungun, K., Purba, R., & Si, M. (2017). Manajemen Keuangan Rumah Tangga Pada Perkumpulan Marga " Partuppuan Purba Pakon Boruni " Desa Sirpang Sigodang , Kecamatan. 2(1), 17–21.
Trisnaningsih, S., & Widyasari, F. (2017). Manajemen pengelolaan dan perencanaan keuangan keluarga pada Ibu rumah tangga di kawasan siwalan Kerto Surabaya. Jurnal Startegi Akuntansi, 2(1990), 1–32.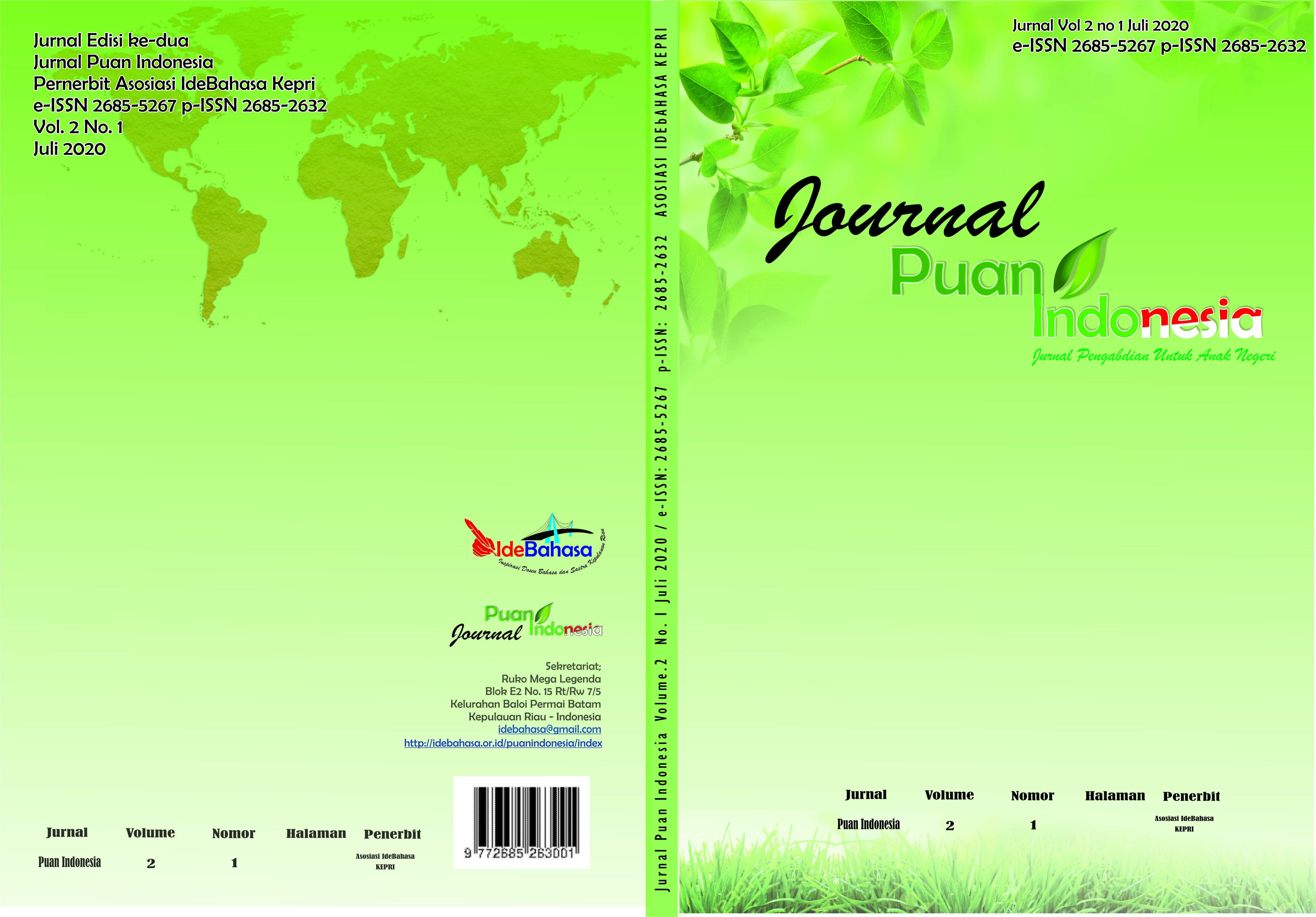 Downloads
How to Cite
Hikmah, & Jusmaya, A. (2020). PEMBINAAN PENGELOLAAN KEUANGAN KELUARGA DAN PENINGKATAN KEMAMPUAN BAHASA INGGRIS PADA IBU RUMAH TANGGA DI PERUMAHAN GRIYA TAHAP 1 BATU AJI. PUAN INDONESIA, 2(1), 45–54. https://doi.org/10.37296/jpi.v2i1.28
Section
Jurnal Puan Indonesia Vol.2 No. 1 July 2020