Penyuluhan Berinternet dan Beribadah Pada Ibu Pengajian Perumahan Bandara Mas
Keywords:
Islamic sites, Portal of Islamic, Online study sessions
Abstract
Over the years Islamic sites have sprung up. In addition to many new names, now the categories are also increasingly diverse. There is a portal of Islamic studies in general. There are also special for teens, families, or the public. Not only that. Now worship is increasingly free. Through the virtual universe can. From searching for Islamic references, the Koran and digital Hadiths, to participating in online study sessions, everything can be done. You can even download nasyid songs, Islamic wallpapers, to the call to prayer program for free. Now, we are referencing back a number of Islamic sites that are worthy of your visit. Some are old, but with a variety of new features. There is also something really new with a variety of information. Everything you can use to worship and strengthen faith. Koran recitals at the Mas Airport housing are an Islamic container that helps the residents of the Mas Airport housing to continue to carry out and implement Islamic law, such as recitation, lectures from informants. So that it can provide additional knowledge from the Islamic side
References
Agustin, F. (2014). PERANCANGAN WEB PORTAL PADA JARINGAN INTRANET (STUDY KASUS?: STMIK POTENSI UTAMA). In Seminar Nasinonal Informatika. Retrieved from http://e-journal.potensi-utama.ac.id/ojs/index.php/SNIf/article/view/195
Hasugian, J. (2005). Pemanfaatan Internet Studi Kasus Tentang Pola, Manfaat dan Tujuan Penggunaan Internet Oleh Mahasiswa pada Perpustakaan USU. Jurnal Studi Perpustakaan Dan Informasi, 1(1), 7–18. Retrieved from http://repository.usu.ac.id/bitstream/handle/123456789/15731/pus-apr2005- (2).pdf;sequence=1
Jamil, R. (2017). PERANAN PEMBELAJARAN MODELING DALAM MENINGKATKAN KETERAMPILAN BERIBADAH SISWA DI MADRASAH ALIYAH NEGERI (MAN)-3 MEDAN. ANSIRU, 1(1), 105–141.
Maesaroh, S. (2013). PERANAN METODE PEMBELAJARAN TERHADAP MINAT DAN PRESTASI BELAJAR PENDIDIKAN AGAMA ISLAM. Kependidikan, 1(1), 150–168. Retrieved from https://media.neliti.com/media/publications/104663-ID-peranan-metode-pembelajaran-terhadap-min.pdf
Pulungan, S. (2017). Pemanfaatan ICTDalam Pembelajaran PAI. QUERY: Jurnal Sistem Informasi, 1(1), 19–24. Retrieved from https://media.neliti.com/media/publications/162725-ID-pemanfaatan-ict-dalam-pembelajaran-pai.pdf
Sudarsono. (2018). PENDIDIKAN IBADAH PERSPEKTIF AL-QURANDAN HADITS. Jurnal Studi Keislaman, 4(1), 54–65. Retrieved from https://media.neliti.com/media/publications/268475-pendidikan-ibadah-perspektif-al-quran-da-0ea595d8.pdf
Zulkifli. (2017). FIQIH DAN PRINSIP IBADAH DALAM ISLAM. Agama, 1(1), 15–25.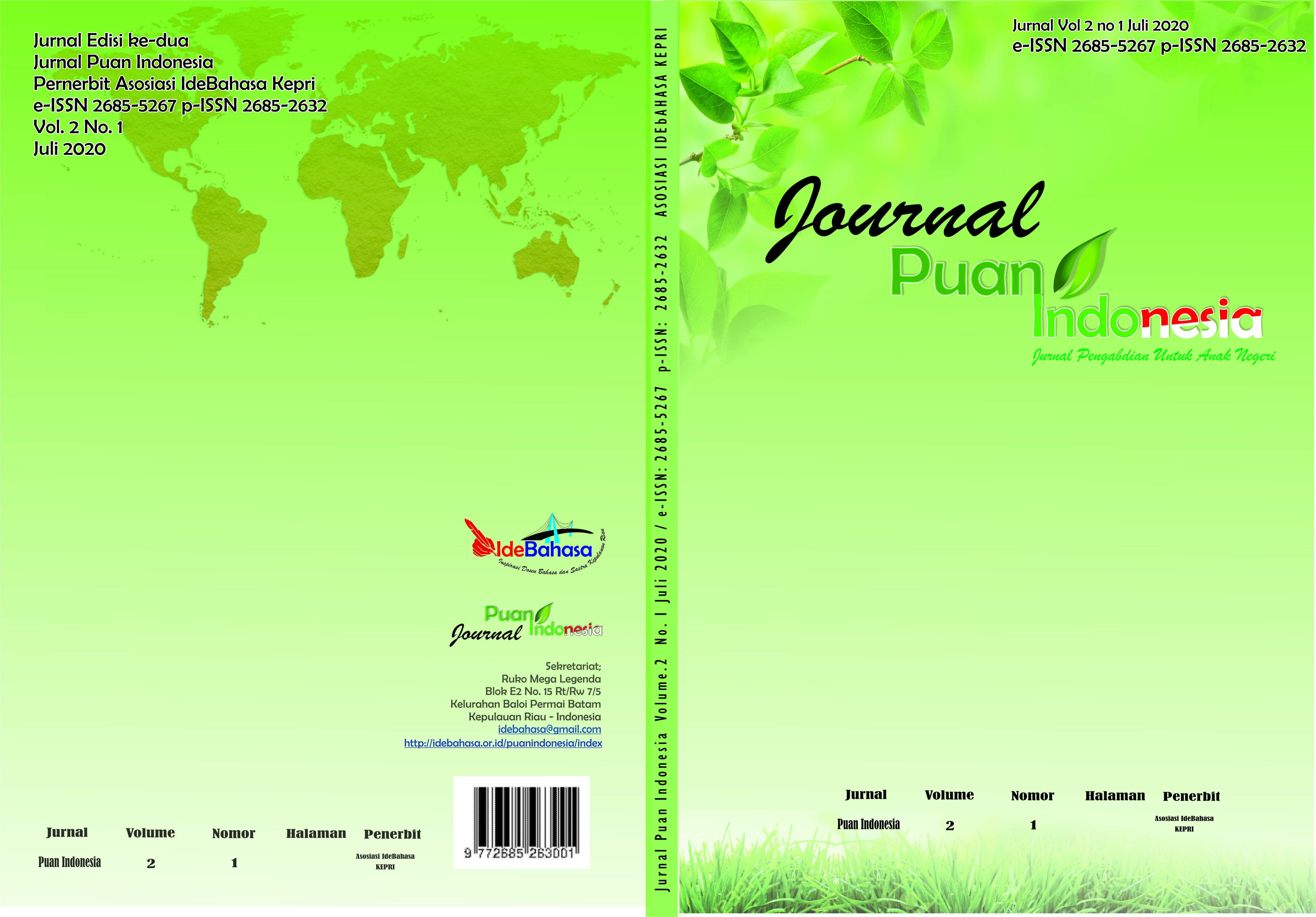 Downloads
How to Cite
Ekawati, N. (2020). Penyuluhan Berinternet dan Beribadah Pada Ibu Pengajian Perumahan Bandara Mas. PUAN INDONESIA, 2(1), 83–94. https://doi.org/10.37296/jpi.v2i1.24
Section
Jurnal Puan Indonesia Vol.2 No. 1 July 2020