PELATIHAN MICROSOFT WORD UNTUK GURU SD NEGERI 6 PEGUYANGAN, KECAMATAN DENPASAR UTARA
Keywords:
Community dedication, Training, Microsoft Word
Abstract
PKM activities at SD Negeri 6 Peguyangan Utara Denpasar, held on Tuesday-Friday, 3-6 September 2019. PKM activities are carried out on teachers at SD Negeri 6 Peguyangan Utara Denpasar by providing training in the use of Microsoft Word. Training materials provided include how to make lesson plans and report cards on curriculum 13 students. From the results of the assessment that has been done, the level of understanding of the participants obtained from the training material provided based on pre-test and post-test assessments. The results of the assessment showed that there was an increase in the understanding of participants before and after attending the training. Before attending Microsoft Word training the participants' understanding of the material was 57.99%, where as after attending the training the understanding of the participants increased to 85.42%. This shows that the training that has been carried out in PKM activities at SD Negeri 6 Peguyangan, North Denpasar, is able to increase participants' understanding of Microsoft Word material.
References
Ajie, M. T. (2019). Pelatihan MS. Office Word dan Excel Bagi Perangkat Desa & Masyarakat Desa Ciaruteun Ilir Bogor. Terang, 1(1), 86–95. https://doi.org/10.33322/terang.v1i1.209
Kurniwan, I., Alamsyah, N., & Hapsari, A. T. (2019). Pelatihan Microsoft Word Dengan TEMA " CRA TE AND EDITING TEKS " Untuk Meningkatkan Kinerja Guru. 02(02), 127–133.
Patmanthara, S. (2010). Analisis Pelaksanaan Uji Online Pada Kompetensi Teknologi Informasi Komunikasi (TIK) Dan Kesiapan Infrastruktur Di SMA Kota Malang. 28–37.
Pratiwi, H. I. (2018). Pelatihan Microsoft Office untuk Karyawan dan Kelompok PKK Kelurahan Sawah Baru Tangerang Selatan. 8–13.
Putu, N., Santiari, L., & Rahayuda, I. G. S. (2018). Pelatihan MS . WORD Pada SDN 1 GULINGAN. (April), 8–13.
Rianto, R., & Wardana, A. K. (2019). Pelatihan Microsoft Office Sebagai Upaya Pengembangan dan Peningkatan Kemampuan Penggunaan Aplikasi Pengolah Kata Dan Angka Bagi Guru PAUD Al Muthi'in Yogyakarta. KACANEGARA Jurnal Pengabdian Pada Masyarakat, 2(2), 99–104. https://doi.org/10.28989/kacanegara.v2i2.446
Sormin, M. A., Sahara, N., & Agustina, L. (2018). Pelatihan Pemanfaatan Perangkat Lunak (Microsoft Office Word, Excel, Power Point) Dalam Kinerja Pengolahan Data Di Pemerintahan Desa Bagikepala Desa Se-Kecamatan Batang Angkola. Martabe?: Jurnal Pengabdian Kepada Masyarakat, 1(2), 78. https://doi.org/10.31604/jpm.v1i2.78-82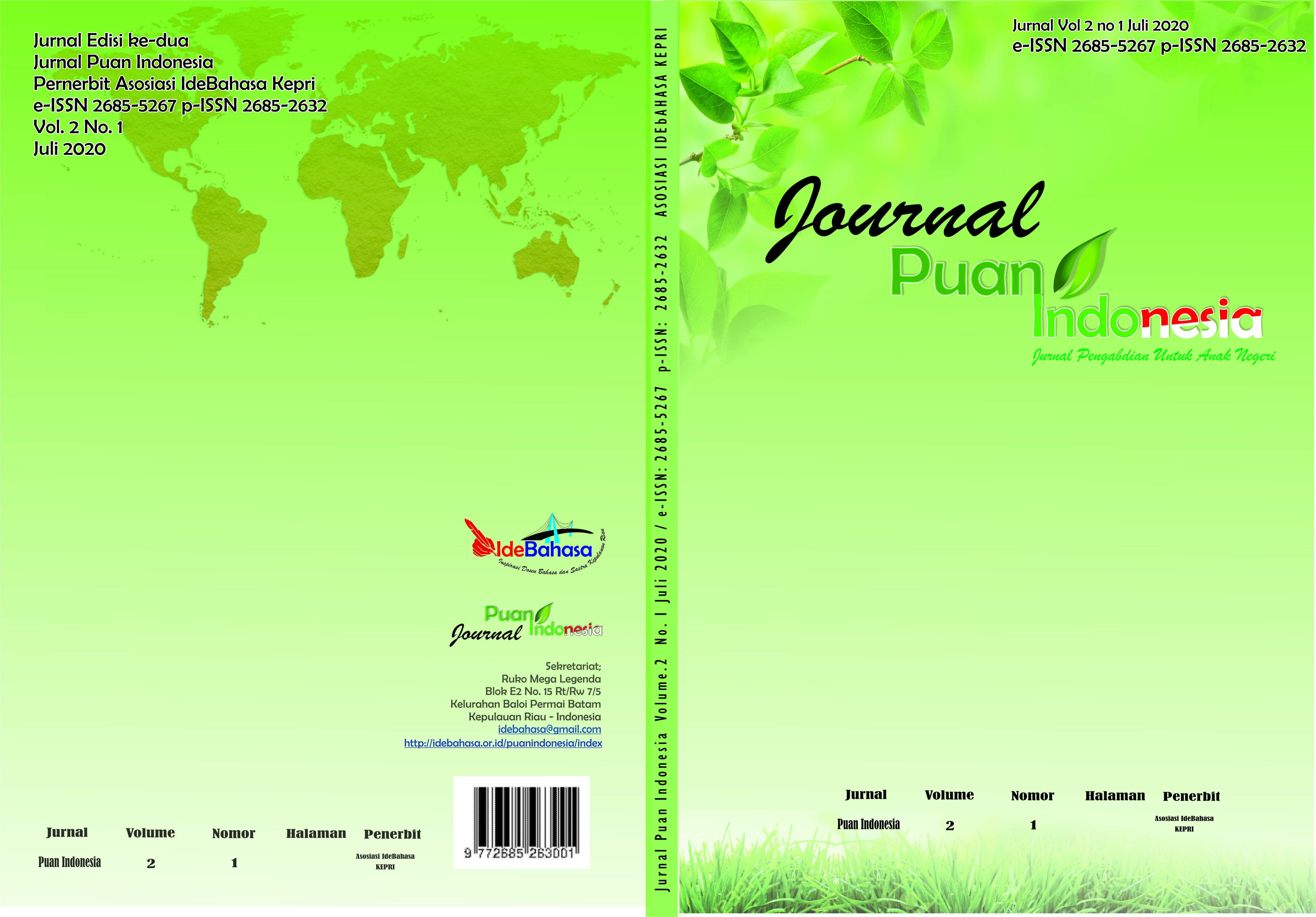 Downloads
How to Cite
Putri, N. W. S., Suryati, N. K., Krisna, E. D., & Kartini, K. S. (2020). PELATIHAN MICROSOFT WORD UNTUK GURU SD NEGERI 6 PEGUYANGAN, KECAMATAN DENPASAR UTARA . PUAN INDONESIA, 2(1), 7–18. https://doi.org/10.37296/jpi.v2i1.17
Section
Jurnal Puan Indonesia Vol.2 No. 1 July 2020