Pelatihan Penggunaan Strategi Membaca bagi Siswa Kelas IX SMP Negeri 4 Kota Solok dalam Menjawab Soal Ujian Nasional Bahasa Inggris
Keywords:
National examination, Reading strategies, English subject
Abstract
The readiness of grade IX students of SMP in facing the national exam is still not optimal. It can be seen from the obstacles encountered by the students related to the amount of material being studied and the limited time available at school. Furthermore, the students are also still unfamiliar with the UN questions tested due to the lack of practice in discussing UN questions. This problem can be overcomed by providing training to students on the use of reading strategies to be applied in answering English UN questions. The subjects of this service program are grade IX students of SMP Negeri 4 Solok City who will take the national exam. The use of reading strategies is an approach to understand English texts that can be used in solving English UN questions. The method of implementing this service program is carried out through several stages, namely (1) giving try out to assess students' ability to answer UN questions, (2) giving guidance and training in using reading strategies in answering UN questions, and (3) giving final try out as evaluation of the implementation of community service activities. The results of this community service activity showed that students have broad insights on strategies to solve English National Examination questions. Students also become more enthusiastic and active in answering English UN questions. Besides that, students also get information that is very useful in preparing themselves as early as possible to face the national exam. Given the large benefits of community service activities, it is necessary to provide intensive and structured training for grade IX students of SMP on tips and tricks for answering English UN questions easily.
References
Brown, D. H. (2007). Teaching by Principles: An Interactive Approach to Language Pedagogy. White Plains: Pearson Education Company.

Hafis, M.,et al. (2018). Pelatihan strategi belajar bahasa Inggris siswa kelas III SMP Walisongo dalam menghadapi ujian nasional 2018. GERVASI: Jurnal Pengabdian kepada Masyarakat, 2(2), 176-186.

Kisi-Kisi Ujian Nasional Sekolah Menengah Pertama/Madrasah Tsanawiyah Tahun Pelajaran 2018/2019

Mardapi, D. (2008). Teknik Penyusunan Instrumen Tes dan Nontes. Yogyakarta: Mitra Cendekia.

Mardapi, D., & Kartowagiran, B. (2009). Dampak ujian nasional. Laporan Hasil Penelitian Jurusan Penelitian dan Evaluasi Pendidikan. Yogyakarta: Universitas Negeri Yogyakarta.

Peraturan Menteri Pendidikan dan Kebudayaan Republik Indonesia Nomor 4 tahun 2018 Tentang Penilaian Hasil Belajar oleh Satuan Pendidikan dan Penilaian Hasil Belajar oleh Pemerintah

Soal UN bahasa Inggris SMP/Mts tahun 2017

Soal UN bahasa Inggris SMP/Mts tahun 2018

Soedarso. (2006). Speed Reading Sistem Membaca Cepat dan Efektif. Jakarta : Gramedia Pustaka Utama.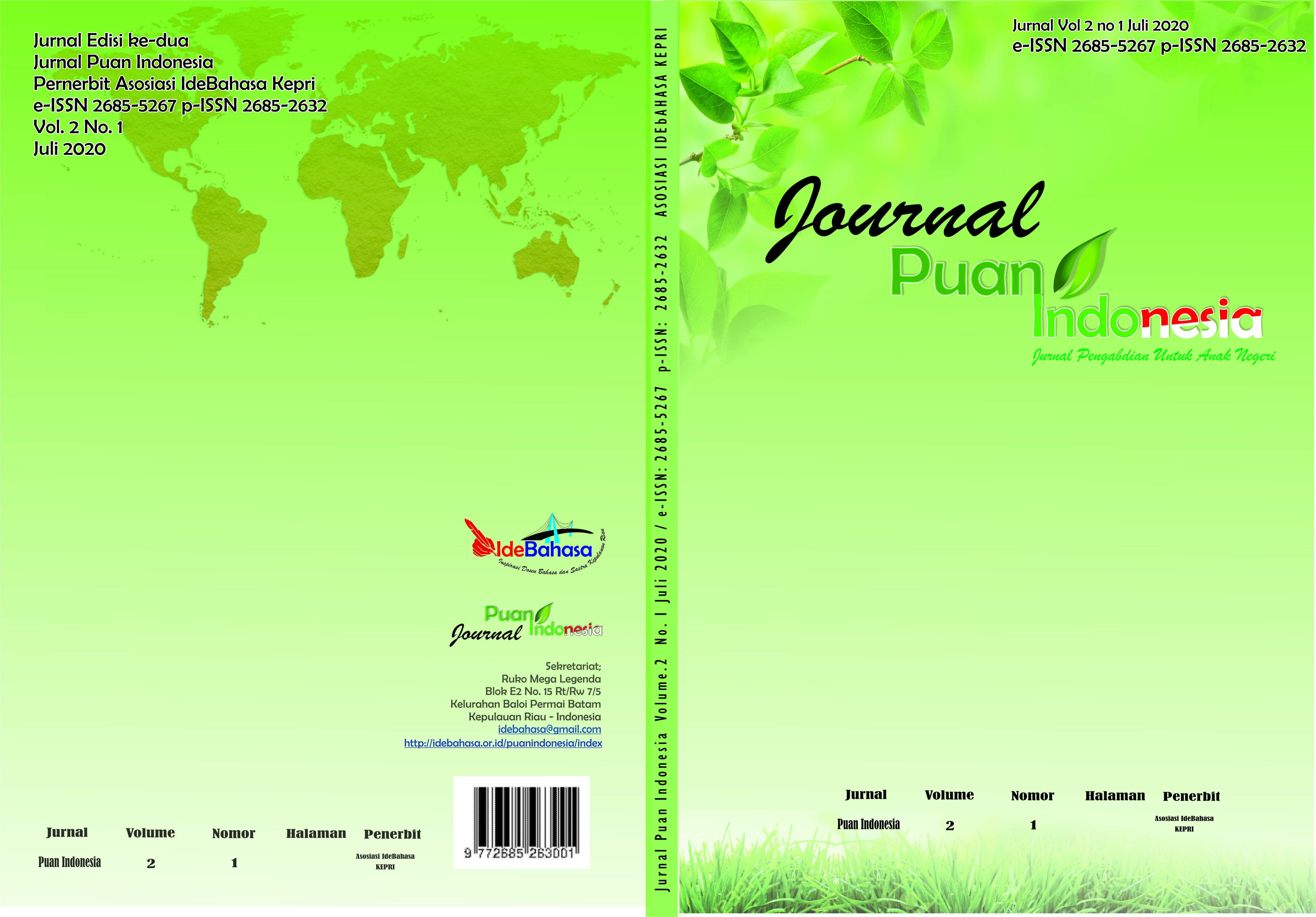 Downloads
How to Cite
Handayani, F., Sepyanda, M., Dwiputri, R., & Zulfariati. (2020). Pelatihan Penggunaan Strategi Membaca bagi Siswa Kelas IX SMP Negeri 4 Kota Solok dalam Menjawab Soal Ujian Nasional Bahasa Inggris . PUAN INDONESIA, 2(1), 19–32. https://doi.org/10.37296/jpi.v2i1.16
Section
Jurnal Puan Indonesia Vol.2 No. 1 July 2020