MEMILIH SEKOLAH DASAR UNTUK ANAK MENGGUNAKAN FUZZY LOGIC METODE MAMDANI
CHOOSING ELEMENTARY SCHOOL FOR CHILDREN USING FUZZY LOGIC MAMDANI METHOD
Keywords:
Choosing, Education, Fuzzy Logic.
Abstract
Education Batam City has an education that follows the development of the current era. Because the city of Batam itself is very close to neighboring countries, namely Singapore and Malaysia. As reported from the online electronic media Kompas newspaper on January 17, 2017, as a parent, of course you also don't want to look for a school for your baby. The reason is, choosing the right school, especially kindergarten (TK) and elementary school (SD), is a "long-term investment" for the future of children. Having a child who will enter a higher school, from the kindergarten (TK) period, of course, must choose an elementary school (SD) which can be said to have good quality besides that it can be seen in the results of those who have graduated from the elementary school. Because in the modern era, children must be introduced to the international language from an early age but not abandon the national language, Sultan Agung School puts the concept of the National Plus School in front. The consideration that can be taken for parents is choosing a public or private elementary school with different concepts and advantages, of course, it is enough to think carefully, so as not to make the wrong choice. In general, the new alternative schools offer the same concept, namely promoting children's verbal abilities and honing children's creativity. As a parent, of course, you will look for information on the meaning of the national plus school understanding. The concept taken with the national plus is that the school prioritizes all students being able to use the Indonesian language and is equipped with the help of an international language, namely English.
References
Agus, N. (2009). Belajar Cepat Fuzzy Logic Menggunakan MATLAB. Andi.
Ardi, W. N. (2012). Manajemen Pendidikan Karakter (Konsep dan Implementasinya di Sekolah). Pedagogja.
Ary, S. (2015). MOTIVASI ORANG TUA MENYEKOLAHKAN ANAK KE SEKOLAH ISLAM TERPADU (Studi Pada SDIT-Al-Madinah Kota Pekanbaru). JOM FISIP, 2 No.2, 1–16.
Badan Pusat Statistik Kota Batam. (2015). Statistik Kecamatan Batam Kota 2015 (K. B. Koordinator Statistik Kecamatan Batam Kota (ed.)). 2171.15.26. https://batamkota.bps.go.id/website/pdf_publikasi/Statistik-Kecamatan-Batam-Kota-2015.pdf
Junior Mega Swastika, F. X. S. S. (2015). RASIONALITAS ORANG TUA MEMILIH SD PROGRAM FULL DAY SCHOOL DI KOTA KEDIRI. Paradigma, 03 Nomor 0, 1–7.
Kusumadewi Sri, H. P. (2013). Aplikasi Logika Fuzzy Untuk Pendukung Keputusan Edisi Kedua (Edisi Kedu). Graha Ilmu.
Patilima, H. (2011). Metode Penelitian Kualitatif. Alfabeta.
Paulus Erick. (2007). Cepat Mahir GUI Matlab + Studi Kasus. Andi.
Saptono. (2011). Dimensi-dimensi Pendidikan Karakter (Wawasan, Strategi, dan Langkah Praktis) (D. P. P. Erlangga Yugha (ed.)). Erlangga.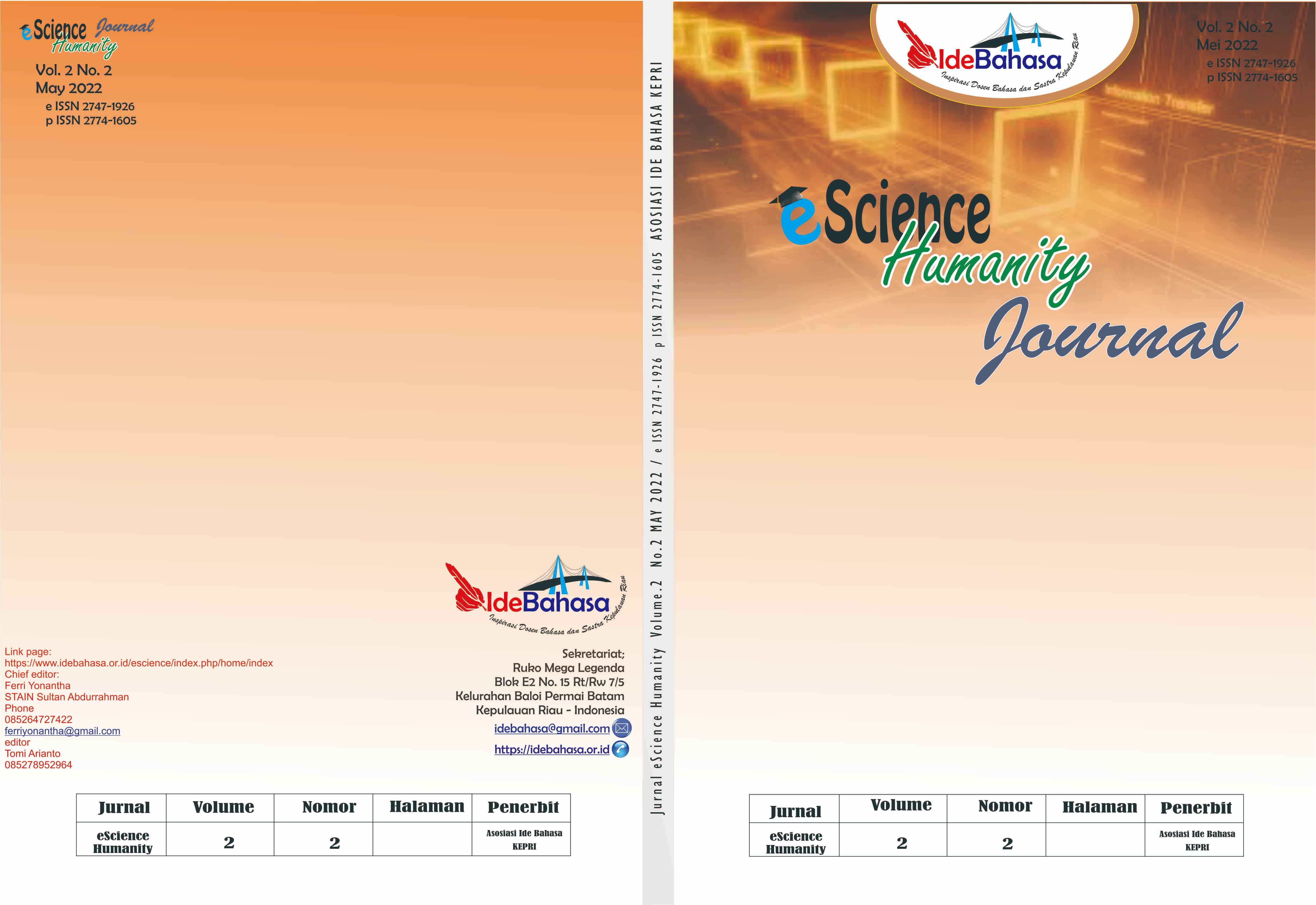 Downloads
How to Cite
Ekawati, N., & Jannati, E. F. (2022). MEMILIH SEKOLAH DASAR UNTUK ANAK MENGGUNAKAN FUZZY LOGIC METODE MAMDANI: CHOOSING ELEMENTARY SCHOOL FOR CHILDREN USING FUZZY LOGIC MAMDANI METHOD. EScience Humanity Journal, 2(2), 113-124. https://doi.org/10.37296/esci.v2i2.42
Section
eScience Humanity Journal Volume 2 Number 2 May 2022