THE USE OF CODE MIXING IN SUMITOMO COMPANY: SOCIOLINGUISTICS APPROACH
Abstract
The goal of this study was to discover the different code mixing types and the reasons why the leader spoke code mixing during in the meeting with employees. On Monday, he presided over the meeting, which included some code mixing. In  this research, the writer used a qualitative descriptive method. The data were taken by recording the utterance of the leader then observed the words that referred to code mixing and the reason of choosing to use code mixing. They are found three types of code mixing the first  intra-sentential code mixing, the second intra- lexical form and the last is the  pronunciation changing.
References
Fanani, A., & Ma'u, J. A. R. Z. (2018). Code switching and code mixing in English learning process. LingTera, 5(1), 68–77. https://doi.org/10.21831/lt.v5i1.14438
Haloho, N. S., & Johan, M. (2020). The analysis of deixis found in Channel New Asia. IDEAS Journal of Language Teaching and Learning, Linguistic and Literature, 4778(1), 361–370. https://doi.org/10.24256/ideas.v8i1.1417
Hoffmann, J. (1970). Triangulism in family, school and community (Vol. 53). https://doi.org/10.1017/CBO9781107415324.004
Hudson, R. (2000). Word Grammar , cognitive linguistics and second-language learning and teaching. 1–42.
Johan, M. (2015). Bahasa sebagai teknik penyampaian pesan dan teknik bercerita pada sastra perempuan, gender, dan feminisme. Cakrawala bahasa- jurnal pendidikan, 04 No. 03(ISSN 2089-6115), 68–80.
Raihany, A. (2018). The use of code-mixing on keynote speaker of "Islamic teaching forum of parenting and children education." OKARA: Jurnal Bahasa Dan Sastra, 12(1), 29. https://doi.org/10.19105/ojbs.v12i1.1760
Spolsky Bernard. (1998). Sociolingustics. New York: Oxford University Press. Sudaryanto. (1993). Method dan Teknik Analysis Bahasa. Yogyakarta: Duta Wacana University Press.
Trudgill, P. (2000). Sociolinguistics: An Introduction to Language and Society. In
Penguin Books. https://doi.org/10.2307/326846
Wardaugh, R. (1987). An Introduction to Sociolinguistics. In The British Journal of
Sociology (Vol. 38). https://doi.org/10.2307/590702
Wibowo, A. I., Yuniasih, I., & Nelfianti, F. (2017). Analysis of types code switching and code mixing by the sixth President of Republic Indonesia's speech at the national of Independence day. Progressive, 12(2), 13–22.
Yule, G. (2016). The study of language. Cambridge university press.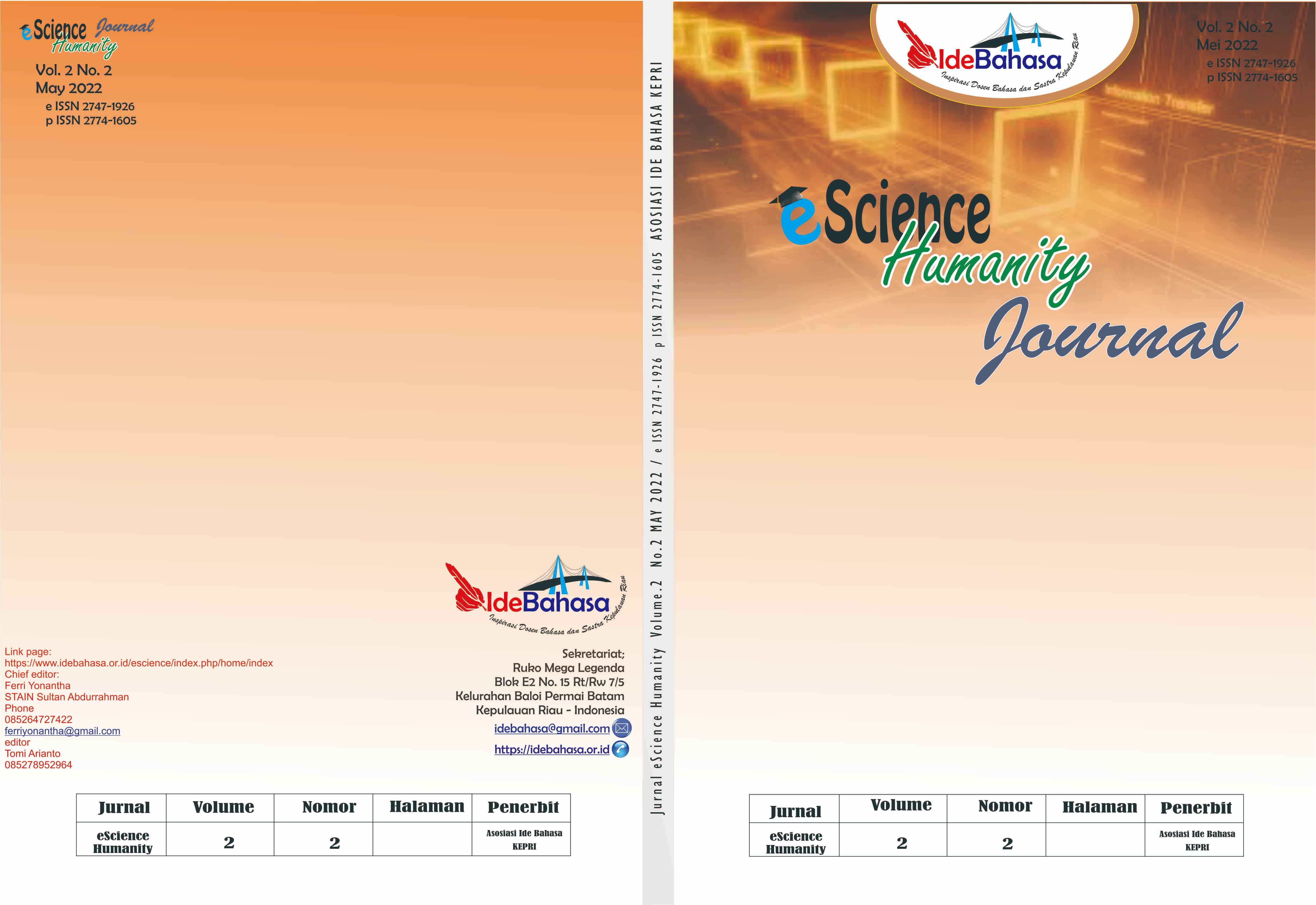 Downloads
How to Cite
Haloho, N. S. ., & Johan, M. J. (2022). THE USE OF CODE MIXING IN SUMITOMO COMPANY: SOCIOLINGUISTICS APPROACH. EScience Humanity Journal, 2(2), 125-136. https://doi.org/10.37296/esci.v2i2.41
Section
eScience Humanity Journal Volume 2 Number 2 May 2022