REVEALING THE "SWAN" SYMBOL AND SOCIAL CRITICISM IN RENDRA'S POETRY "NYANYIAN ANGSA"
Keywords:
Symbol, Semiotic, Poetry, Riffaterre
Abstract
The purpose of this research aimed to reveal symbols that are often present by applying semiotic critical analysis to poetry. Nyanyian Angsa (The Swan Song) is the source of data in this analytical practice. Rendra is a writer who is familiar to the Indonesian people through his sharp lines and directly affects the social phenomenon critics. In this article, the researcher implemented Riffatere's semiotic reading theory to examine the Swan symbol in poetry. Riffatere introduces 4 things in semiotic of poetry, they are (1) poetry is an indirect expression, stating something with another meaning, (2) heuristic and hermeneutic reading (retroactive), (3) matrix, model, and variant, and (4) hypogram. By using qualitative research methods, this research focused on critical analysis of the text in poetry. The results of this analysis indicated that there are many ungrammatical expressions in poetry that could not be read heuristically reading so that the reading is done by hermeneutic reading (retroactive). Through the semiotic stages, there are two major criticisms behind the ungrammatical meaning found, namely the representation of social criticism on individuals in medical and religious institutions. The Swan symbol also refers to the Maria Zaitun character who has done forgiveness of sins.
References
Adryamarthanino, Verelladevanka. (2022). WS Rendra, Penyair yang Dijuluki Si Burung Merak. Kompas.com. 8/04/2022. Dikutip dari https://www.kompas.com/stori/read/2022/04/08/080000779/ws-rendra-penyair-yang-dijuluki-si-burung-merak?page=all.
Ahmad, Q. (2020). A Social Semiotic Analysis on Emma Watson's Heforshe Campaign Speech. IdeBahasa, 2(1), 1-12. Retrieved from https://jurnal.idebahasa.or.id/index.php/Idebahasa/article/view/38
Endraswara, Suwardi. (2013). Metodologi Penelitian Sastra, Epistemologi, Model, Teori, dan Aplikasi. Yogyakarta: CAPS (Center For Academic Publishing Service).
Faruk. (2012). Metode Penelitian Sastra. Pustaka Belajar:Yogyakarta
Isnaini, H., Priyatna, A., Rahayu, L. M., & Adji, M. (2020). Konsep Manunggaling Kawula Gusti Pada Puisi-Puisi Sapardi Djoko Damono. IdeBahasa, 1(2), 115-128. Retrieved from https://jurnal.idebahasa.or.id/index.php/Idebahasa/article/view/26
Kuhon, F. (2020). Woman Representation in Poe's To Helen. IdeBahasa, 2(1), 59-68. Retrieved from https://jurnal.idebahasa.or.id/index.php/Idebahasa/article/view/33Riffaterre, Michael. 1978. Semiotics of Riffaterre. Indiana University press:London
Pujasari, R. S. (2019). How Do I Write Poetry? Investigating Students'creativity in Writing Poetry. Jurnal Basis, 6(1), 25-32. link: https://ejournal.upbatam.ac.id/index.php/basis/article/view/1002
Salam. (2009). Pembelajaran Menulis Puisi Dengan Metode Michael Riffaterre. Retrieved from the page http://gateway Pendidikan.blogspot.com/2009/01/pembelajaran-menulis-puisi-dengan.html
Sobur, Alex. (2003). Semiotika Komunikasi. Bandung: Remaja Rosdakarya.
Tambunan, M. A. (2019). Lexical and Grammar Cohesion In The Collection Of" Museum Penghancur Dokumen" Poetry By Afrizal Malna. Jurnal Basis, 6(2), 185-196. link: https://ejournal.upbatam.ac.id/index.php/basis/article/view/1426
Wikipedia (2014). Sumpah Dokter Indonesia. Dikutip tanggal 18 desember 2014. http:id.wikipedia.org/wiki/sumpah_dokter_indonesia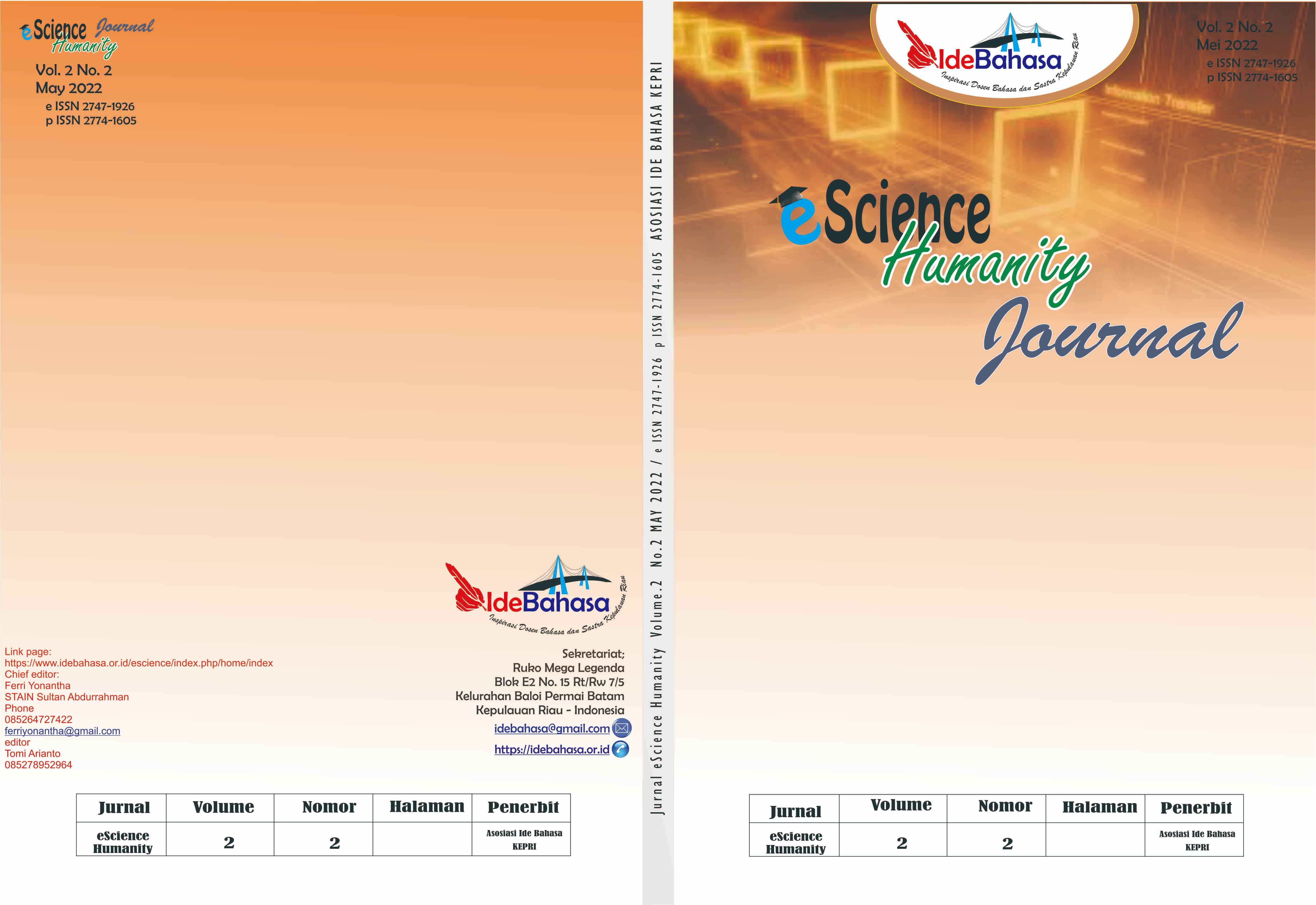 Downloads
How to Cite
Arianto, T. (2022). REVEALING THE "SWAN" SYMBOL AND SOCIAL CRITICISM IN RENDRA'S POETRY "NYANYIAN ANGSA". EScience Humanity Journal, 2(2), 97-104. https://doi.org/10.37296/esci.v2i2.40
Section
eScience Humanity Journal Volume 2 Number 2 May 2022