TELAAH PEMBELAJARAN MAHASISWA TERHADAP PERAN BAHASA INDONESIA DI PERGURUAN TINGGI
STUDENT LEARNING ABOUT THE ROLE OF INDONESIAN LANGUAGE IN UNIVERSITY
Keywords:
Learning Process, Indonesian Language, University
Abstract
The Indonesian language course is one of the general subjects that must be taught at the tertiary level, either at the Diploma or Bachelor level. This rule of course has been stated in Article 35 paragraph 3 of Law number 12 of 2002 which is related to learning in higher education. Based on the article, the Indonesian language courses at the university level have changed their names, namely to become general compulsory subjects (MKWU) which were originally called the General Basic Courses (MKDU). It can be said that a substance in the study of Indonesian general courses will always focus on an emphasis on skills in the use of Indonesian as a language known as the national language. However, in accordance with the existing truth, in doing academic writing which is an effort that can be made in obtaining a national literacy program as has happened at this time which is really not in accordance with the intended expectations. Of course, in reality this will have an impact on students at the high school level who will enter the university level who will of course study Indonesian language courses. Seeing in the problems that will arise in the learning process, of course, it is very necessary, namely learning model that will begin to lead to how the ability of the student in carrying out recovery from an event that is in learning. Of course, the learning model as proposed is a guide from various sources by referring to the main points of a problem that will be faced, of course, by lecturers of the Indonesian General Course.
References
Faiqotul Fazat ABA, S. (2015). Pentingnya Pembelajaran Bahasa Indonesia Di Perguruan Tinggi. Jurnal Intelegensia, 03(01), 59–74.
Freytagh-Loringhoven, H. v. (2021). Artikel6. Die Satzung Des Völkerbundes, 95–102. https://doi.org/10.1515/9783112372760-013.
Gusnayetti,G. (2021). Sikap Bahasa Dan Pembelajaran Bahasa Indonesia Di Perguruan Tinggi. Ensiklopedia Sosial Review, 3(2), 204–211. https://doi.org/10.33559/esr.v3i2.803
Hidayat, R.Khotimah, K., & Saputra A. (2019). Mata Kuliah Wajib Umum Bahasa Indonesia Di Perguruan Tinggi: Sebuah Tawaran Model Pembelajaran. Jurnal Ilmiah Telaah, 4(1), 31. https://doi.org/10.31764/telaah.v4i1.1268
Hilaliyah,.. H. (2019). Mahir Berbahasa Indonesia (Mata Kuliah Pengembangan Kepribadian di Perguruan Tinggi). II(1), 55–62. http://dx.doi.org/10.31219/osf.io/bepd7
Ibda, ..H. (2020). Pembelajaran Bahasa Indonesia Berwawasan Literasi Baru di Perguruan.Tinggi dalam Menjawab Tantangan Era Revolusi Industri 4.0. Jalabahasa, 15(1), 48–64. https://doi.org/10.36567/jalabahasa.v15i1.227
Jennyfer.. Puji Lestari.. Woi. (2019). Peran Pembelajaran Bahasa Indonesia Terhadap. Https://Www.Researchgate.Net. https://doi.org/https://doi.org/10.31227/osf.io/hkc3s
Karunia, A. N. (2020). Makalah Bahasa Indonesia " Pentingnya Bahasa Indonesia terhadap Karakter Mahasiswa " Universitas Dian Nusantara Tahun 2020.
Kuntarto, E. (2017). Materi Kuliah Bahasa Indonesia. Materi Kuliah Bahasa Indonesia, 20.
Oktavia, Y., & Hulu, F. (2017). Pengembangan Modul Ejaan Bahasa Indonesia Berbasis Pendekatan Contextual Teaching And Learning. BELAJAR BAHASA: Jurnal Ilmiah Program Studi Pendidikan Bahasa dan Sastra Indonesia, 2(2). link http://jurnal.unmuhjember.ac.id/index.php/BB/article/view/835
Purwanto (2011). Evaluasi Hasil Belajar. Yogyakarta: Pustaka Pelajar.
Puspitasari, A. (2017), Menumbuhkan Bahasa Indonesia Yang Baik Dan Benar Dalam Pendidikan Dan Pengajaran. Tamaddun, 16(2), 81–87. https://doi.org/10.33096/tamaddun.v16i2.55
Ramadia,A,& Rozy, D. (2020). Vol. 2 No.3 Edisi 1 April 2020 http://jurnal.ensiklopediaku.org Ensiklopedia of Journal. Jurnal Ensiklopedia, 2(3), 142.
Sholihah K, (2019). Upaya Perpustakaan Perguruan Tinggi dalam Mewujudkan Integritas Akademik. Pustabiblia: Journal of Library and Information Science, 3(2), 189–203. https://doi.org/10.18326/pustabiblia.v3i2.189-203
Sudjino (2009) Pengantar Statistik PendidikanPengantar Statistik Pendidikan. Jakarta: Raja Grafindo Persada.
Suryosubroto. (2009). Proses Belajar Mengajar di Sekolah. Jakarta: Rineka Cipta
Trianto. (2012). Mendesain Model Pembelajaran Inovatif-Progresif. Jakarta: Kencana Prenada Media Group.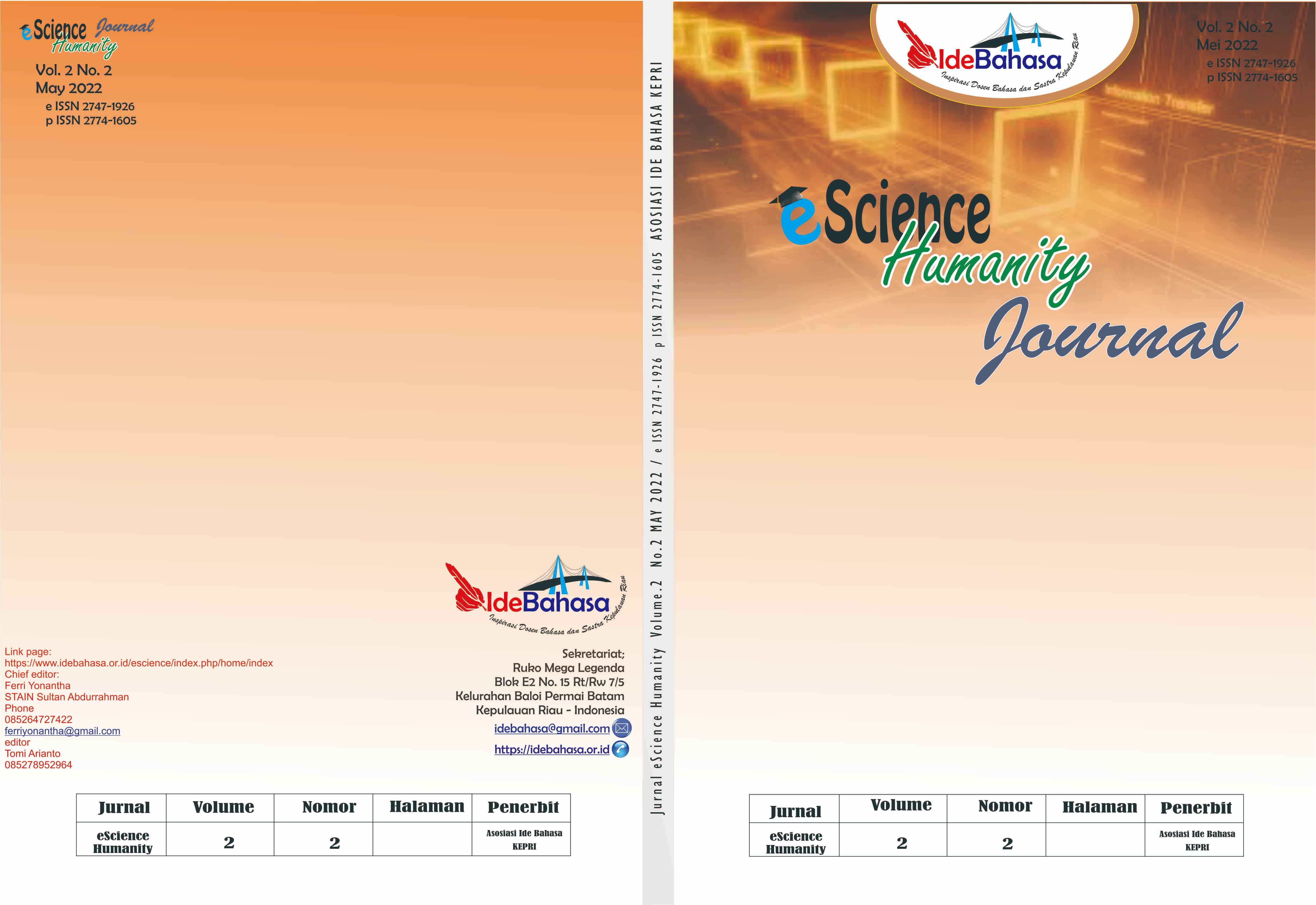 Downloads
How to Cite
Barimbing, S., & Oktavia, Y. . (2022). TELAAH PEMBELAJARAN MAHASISWA TERHADAP PERAN BAHASA INDONESIA DI PERGURUAN TINGGI: STUDENT LEARNING ABOUT THE ROLE OF INDONESIAN LANGUAGE IN UNIVERSITY. EScience Humanity Journal, 2(2), 105-112. https://doi.org/10.37296/esci.v2i2.21
Section
eScience Humanity Journal Volume 2 Number 2 May 2022