ANALISIS KESALAHAN BERBAHASA INDONESIA PADA MEDIA BERITA BERBASIS DIGITAL
Abstract
One of the media used to read news is digital-based media. However, in digital media, we often encounter errors in Indonesian. We still often encounter errors, syntax errors, and morphological errors when communicating or reading news in various media. Therefore, these errors will be the main discussion in this article. The main purpose of writing this article is to explain errors, morphological errors, and language syntax errors in internet-based news media. In addition, another goal is to provide improvements that are by the writing of Indonesian writing. The descriptive method is used as the main method in analysing Indonesian writing errors. The method of collecting data or information is done by searching, reading, and understanding the content of news on the internet. The results of the analysis of errors in the use of Indonesian in internet-based news media found that there were still many media that made mistakes starting from the news title to the content of the news that was written.
References
SUMBER BERITA
https://www.tribunnews.com/bisnis/2021/10/16/penjualan-mobil-bensin-akan-disetop-how-kesisian-infraktur-pengisian-kendaraan-listrik
https://inet.detik.com/video/211016054/laptop-lelet-pas-baru-dinyalain-ini-dia-solution
https://www.tribunnews.com/otomotif/2021/10/15/indonesia-ngebet-enteri-era-kendaraan-listrik-industri-kalang-kabut-baik-how
https://www.tribunnews.com/sport/2021/10/17/sorotan-final-piala-thomas-2021-misi-ganda-indonesia-buka-puasa-gelar-coreng-kecepatan-china
https://news.detik.com/internasional/d-5770620/2-kecelakaan-pesawat-dalam-dakwaan-100-tahun-bui-untuk-eks-pilot-boeing/2
https://www.liputan6.com/bisnis/read/4686672/obat-dan-kosmetik-harga-bersertifikat-halal-pengusaha-minta-government-bantu-umkm
https://money.kompas.com/read/2020/10/21/093719826/apa-itu-startup-dan-bedaya-dengan-kompas-konvensional?page=all
REFERENSI
Chaer, A. (2008). Morfologi bahasa Indonesia: pendekatan proses. Rineka Cipta.
Manaf, N. A. (2009). Sintaksis: Teori dan Terapannya dalam Bahasa Indonesia. Padang: Sukabina Press.
McCarthy, A. C. (2002). An introduction to English morphology‫‬: words and their structure. Edinburgh: Edinburgh University Press.‬‬‬‬
Sriyanto. (2015). Seri Penyuluhan Bahasa Indonesia: Ejaan. In E. R. Adiati (Ed.), Seri Penyuluhan Bahasa Indonesia: Ejaan (Vol. 58, Issue 12). Pembinaan dan Pemasyarakatan Badan Pengembangan dan Pembinaan Bahasa Kemendikbud. https://doi.org/10.1128/AAC.03728-14
Tarigan, H. G., & Tarigan, D. (1988). Pengajaran analisis kesalahan berbahasa. Angkasa, Bandung.
Wiyanti, E., Setiawati, S., & Sumadyo, B. (2017). Tipe-Tipe Kesalahan Sintaksis pada Karangan Siswa Kelas XI SMA Bina Spora Mandiri Cigombong Bogor. DEIKSIS, 9(03), 300. https://doi.org/10.30998/deiksis.v9i03.680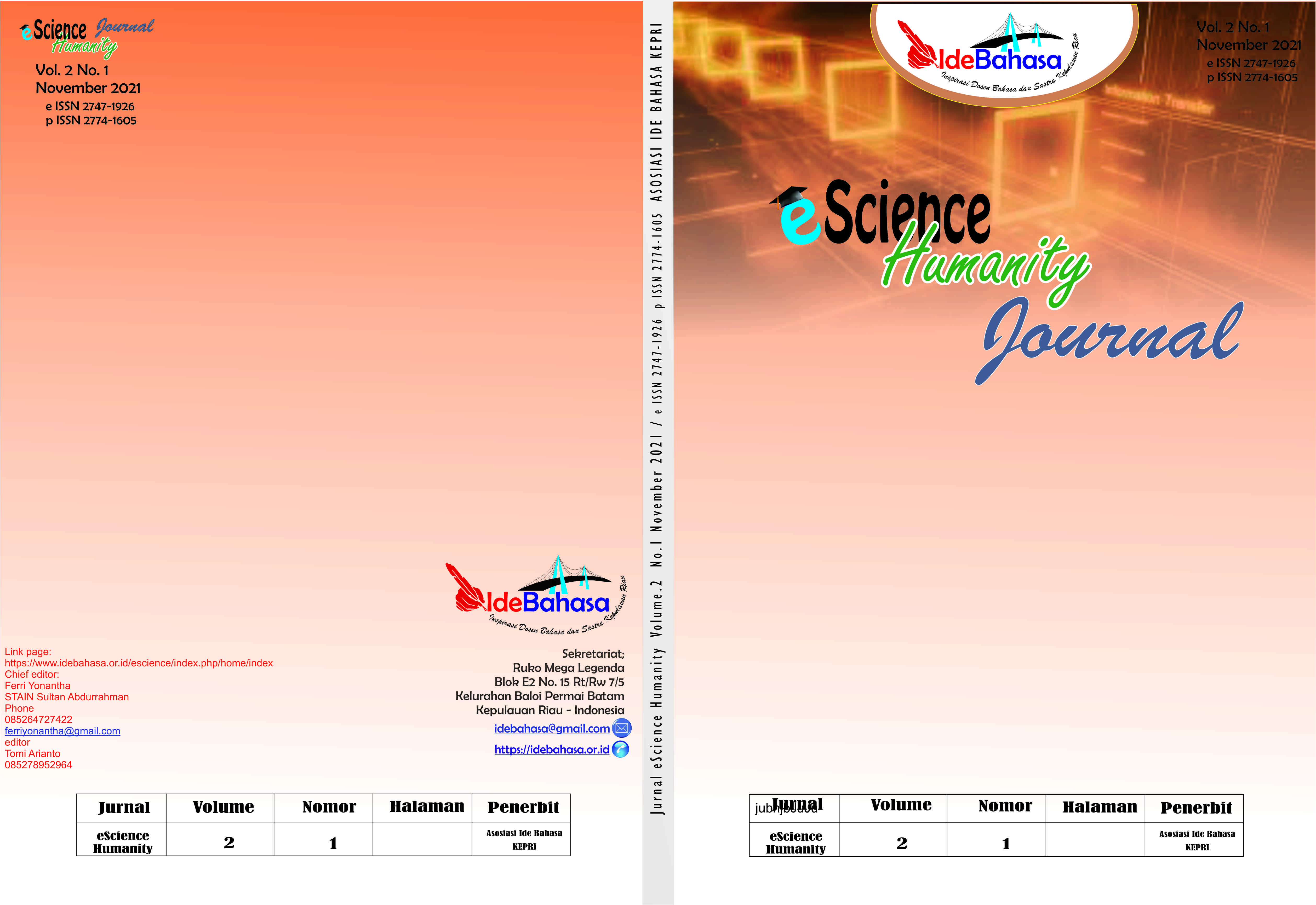 Downloads
How to Cite
Jaya, I. ., & Oktavia, Y. (2022). ANALISIS KESALAHAN BERBAHASA INDONESIA PADA MEDIA BERITA BERBASIS DIGITAL. EScience Humanity Journal, 2(1), 59-64. https://doi.org/10.37296/esci.v2i1.19
Section
eScience Humanity Journal Volume 2 Number 1 November 2021