PEMBINAAN HOW TO BE OUTSTANDING MC AND MODERATOR DI KARANG TARUNA GARUDA VILLA HANG LEKIR BATAM
Keywords:
communication, Master of Ceremony and Moderator, Community Service (PKM)
Abstract
English as a communication tool for people around the world because English is the International language. As a means of global communication, English must be actively mastered both oral and written. In this Community Service (PKM) Coaching Ability to speak in public (public speaking) is very important for teenagers or students so that in the future they are ready to face Batam as a free trade zone and MICE (Meeting, Incentive, Ceremonies, and Events). So that this Public Speaking training is very much needed by Karang Taruna Garuda so that Karang Taruna members can practice it in youth activities held in the housing complex. This training aims to increase the knowledge of Public Speaking and the ability of members of the youth to speak in public such as MC, Moderator in youth activities in the era of globalization and this MICE era.
References
Ambalegin, & Suryani, M. S. (2019). Pembelajaran speaking melalui pendekatan content-based instruction bagi guru-guru SMA/SMK Harapan Batam. Jurnal PUAN Indonesia, 1(1), 19–27.
http://idebahasa.or.id/puanindonesia/index.php/about/article/view/1/4
Bradbury, Andrew. (2007). Successful Presentation Skills, 3rd ed. London: Kogan Page
Hulu, Fasaaro. (2015). Obstacle in English Oral Discourse at the 3rd Semester Students of English Education Faculty of Universitas Riau Kepulauan Batam. Batam: Jurnal Basis. Vol.2. ISSN: 2406-9809
Nurlela T. dan Samad Farida. (2015). Strategi Pembelajaran Bahasa Inggris Yang Menyenangkan Untuk Anak Usia Dini. Universitas Khairun: Cahaya Paud
Templeton, Melody. (2010). Public Speaking and Presentation Demystified. New York: McGrawHill
Walter Elizabeth. (2008). Cambridge Advance Learner's Dictionary. UK: Cambridge University Press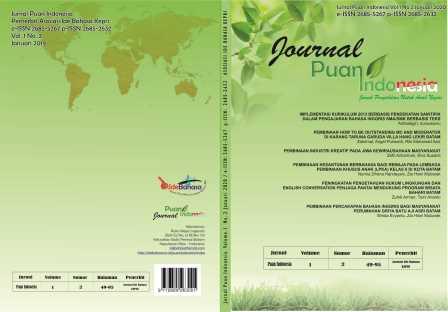 Downloads
How to Cite
Zakrimal, Z., Purwanti, . A. ., & Aziz, R. M. . (2020). PEMBINAAN HOW TO BE OUTSTANDING MC AND MODERATOR DI KARANG TARUNA GARUDA VILLA HANG LEKIR BATAM. PUAN INDONESIA, 1(2), 59–64. https://doi.org/10.37296/about.v1i2.13
Section
Jurnal Puan Indonesia Vol 1 No 2 Januari 2020