PENINGKATAN PENGETAHUAN HUKUM LINGKUNGAN DAN ENGLISH CONVERSATION PENJAGA PANTAI MENDUKUNG PROGRAM WISATA BAHARI BATAM
Keywords:
Environment, Law, Conversation, Coast Guard, Setokok
Abstract
The development of a tourist area must be supported by the facilities and quality of existing Human Resources knowledge in the local area; Namely knowledge of tourism activities, the ability and communication skills and understanding of the rules of the game with foreign tourists. Setokok Beach is one of the destinations taken into account in supporting the marine tourism area in Batam. For this reason, legal guidance is needed specifically relating to the environment and the legal rules governing environmental preservation to the community so that they can live a life of society, nation and state without doing any damage to the environment that is now rife in Batam for it as one of the areas around Batam island in order to be prevented about the dangers of environmental damage in accordance with the current of globalization and the development of the times so that inevitably the community is demanded to be able to know the ins and outs of legal issues related to preserving and protecting the environment especially to the people at Setokok beach. The method taught is in the form of fostering Understanding of Environmental Law and English conversation practice according to the needs and conditions of training participants. The results obtained through community service in Setokok Beach can be seen from the mastery of the ability to practice law and speaking conversation.
References
Arianto, T. (2019). Pembinaan Peningkatan English Conversation di Pantai Indah Setokok. Jurnal Puan Indonesia, 1(1), 10–18. http://idebahasa.or.id/puanindonesia/index.php/about/article/view/2
Ukas, Zuhdi A. (2019). Hukum Dan Pengelolaan Limbah Bahan Berbahaya dan Beracun (B3) Wilayah Perbatasan Negara Di Kepulauan Riau.Jurnal Hukum Samudra Keadilan.Vol 14, No 2. https://ejurnalunsam.id/index.php/jhsk/article/view/1609
Yona, May. (2016). Kumpulan Materi Pembelajaran Bahasa Inggris untuk Pemula. Retrieved from http://kuliahbahasainggris.com/2017/12/12/mater-pembelajaran-untuk-bahasa-inggris-pemula
Zuhdi Arman. (2018). Tinjauan Terhadap Sistem Multi Partai Dalam Sistem Pemerintahan Presidensial Di Indonesia Pada Era Reformasi,Jurnal Cahaya Keadilan, Vol 6, No.1. http://ejournal.upbatam.ac.id/index.php/cahayakeadilan/article/view/875
Zuhdi Arman. (2019). Analisis Terhadap Pengujian Undang-Undang Nomor 42 Tahun 2008 Tentang Pemilihan Umum Presiden Dan Wakil Presiden, Jurnal Cahaya Keadilan, Vol 7, No.1. http://ejournal.upbatam.ac.id/index.php/cahayakeadilan/article/view/1199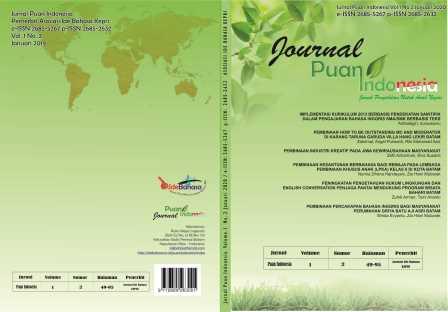 Downloads
How to Cite
Arman, Z., & Arianto, T. (2020). PENINGKATAN PENGETAHUAN HUKUM LINGKUNGAN DAN ENGLISH CONVERSATION PENJAGA PANTAI MENDUKUNG PROGRAM WISATA BAHARI BATAM. PUAN INDONESIA, 1(2), 81–88. https://doi.org/10.37296/about.v1i2.11
Section
Jurnal Puan Indonesia Vol 1 No 2 Januari 2020